MET-6AL AUTOLOADER PRECISION DELRIN TOOL HOLDER TRAYS QTY 2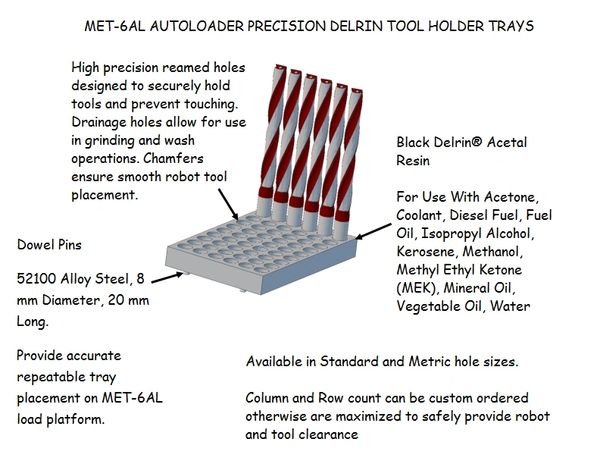 MET-6AL AUTOLOADER PRECISION DELRIN TOOL HOLDER TRAYS QTY 2
These trays are specifically designed for the MET-6AL AUTO LOADER edge prep machine. The trays are easily loaded with tools and line up with premachined dowel pin holes located on the tray base plate. The price shown is for quantity two trays.
They are made of the highest quality Delrin® Acetal material available and are built to withstand years of use. They will hold up in an oil based grinding environment and can also be used as wash trays.

Temperature Range-20° to 180° F

The hardness is rated at Rockwell R120-R122

Specifications Met = ASTM D6100

The Water Absorption is    0.25% earning this product the rating in this category as Good.

The Friction Rating is Very Slippery making it an ideal candidate for precise robot load/unload operations of Carbide and HSS tooling.

The standard dimensions for the MET-6AL trays are 5.62" wide x 8.81" long x 1.00" deep. Please note: The MET-6AL AUTO LOADER will also accept all standard Rollomatic, Anca and Walter grinder tool trays of the same dimensions.


These trays can be custom designed to work with non MET product machines as well. Please send a sketch or 3D model of your requirements to sales@etooldesign.com for pricing. We strive to provide your quote pricing within 24 hrs. For any questions please feel free to contact Steve Lipohar directly at 412.601.0090

All pricing is based on a pair of trays. One Load and the other Unload. When used with the MET-6AL unit we highly recommend always using the Load and Unload trays in the exact same orientation on the MET tray base plate. The trays are marked in a manner which ensures the operator never questions how the tray is placed for running production. This process control features helps us guarantee a 100% success Load/Unload pick and place operation.

Country of Origin for the base material, design engineering, manufacturing and tooling used to manufacture the trays is the United States.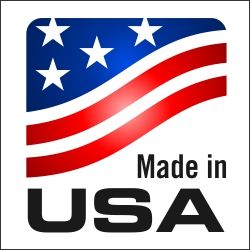 Reviews