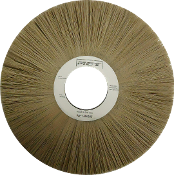 MET-812005
1200 grit/0.012" filament. 8" diameter with 2" hub. Filament size and flexibility allows fine tuning of edge prep to +/- 0.0002" when used with MET units. Recommended for finish and final finish of all styles of carbide, HSS, PCD and CBN tools. Can be used for post coat polish.

This brush is currently being field tested and available for purchase.

Developed by MET and proudly made in the USA.
Reviews