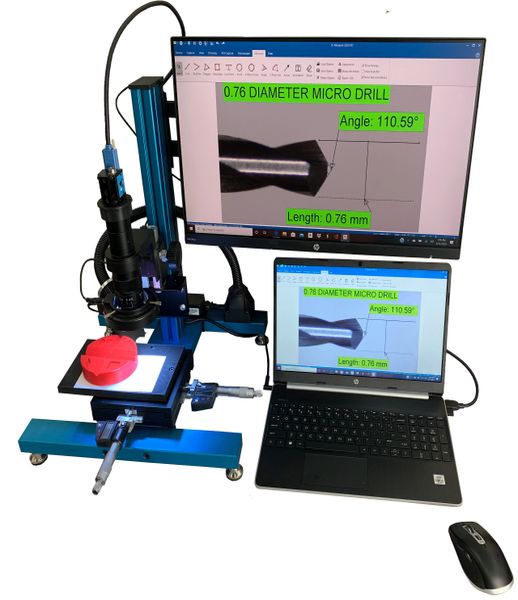 METCALC-1
The METCALC-1 is a high quality economical tool measuring system. This low cost powerhouse unit makes it easy for any size shop to take advantage of the advanced measuring technology available today. If you're experiencing bottlenecks at your measuring stations, consider the METCALC-1 to help streamline your operations and improve your bottom line.
Ask about our MET-6 bundled 50% scope discount.





Ocular Camera

1/1.7 inch Sony CMOS STARVIS sensor (IMX226CQJ)
4,000×3,000 (12 MP), up to 30 fps
Rolling shutter

Intuitive Software
Screen calibration and measuring
Tools to measure lengths, angles, circles and polygons
Freely configurable annotations (color, font and line width)
Save single images
Save image sequences (BMP, PNG, TIFF, JPEG)
Time lapse image saving, for example, one image per hour

Digital Micrometer Heads

Digimatic Micrometer Head
Digital Micrometer Head Measurement Range   0-25mm (0.984 inch)
Digital Micrometer Head Resolution                    1μm
Digital Micrometer Head Accuracy                      0.001 mm
Digital Micrometer Head Spindle Diameter       8 mm
Mm/inch Conversion                                             Yes
Zero Setting                                                             Yes
Data Output                                                             Yes
Digital Micrometer Head Power Supply             Battery SR44 1pc
Surface Treatment                                                 Polished Chrome
Material                                                                    Metal
Color                                                                        White

XY Measurement Stage
XY Axis Drive Mode                                              Manual
XY Stage Travel Distance                                    20x20mm
Stage Platform Dimension                                  150x150mm
Stage Height                                                         36mm
XY Axis Measurement Mode                              Micrometer
XY Axis Resolution                                               1μm
XY Axis Measurement Accuracy                       0.001 mm
Micrometer Head Mount Size                            Dia. 11 mm
Surface Treatment                                               Black Oxide Finish
Material                                                                  Metal
Color                                                                       Black
Net Weight                                                            2.10kg (4.63 lbs)
Premium Laptop

Screen Size                                                          15.6 inches
Max Screen Resolution                                      1366 x 768 pixels
Processor                                                             3.6 GHz Core i5 Family
RAM                                                                      16 GB DDR4
Hard Drive                                                            512 GB ssd
Graphics Co-processor                                      Intel Graphics co-processor
Chipset Brand                                                      Intel
Card Description                                                 Dedicated
Graphics Card Ram Size                                    0.01 MB
Number of USB 3.0 Ports                                  3

High Resolution Color Monitor
RESOLUTION & PANEL - 23.8-inch Full HD monitor (1920 x 1080p @ 60 Hz) with 16:9 aspect ratio and an anti-glare matte IPS LED-backlit panel (2 million pixels, 16.7 million colors)

RESPONSE TIME - 5ms with overdrive for a smooth picture that looks crisp and fluid without motion blur.

THIN BEZEL-LESS FRAME - A thin and virtually frameless ultra-widescreen monitor provides a seamless multi-monitor set-up with 3-sided narrow bezels.

4-WAY ERGONOMIC VIEWING - 90° rotation for horizontal (landscape) and vertical (portrait) viewing modes, adjustable height and tilt (-5° to 30°), and 178° positional viewing for the best quality at any angle.

VESA MOUNTING - Mount the display on walls or brackets with a 100mm VESA mounting pattern (mounting bracket and desktop stand provided.)

CONNECTIVITY - VGA and HDMI with HDCP support for laptop or multi-monitor setups. INCLUDES: AC power cord, HMI & VGA cable.

COMPATIBILITY - Plug and play for all OS such as Windows & Mac OS for laptop connectivity (NOTE: USB-C/Thunderbolt 3-to-HDMI adapters required for 2016 MacBook Pros or later)

RESPONSIBLY MADE - ENERGY STAR certified monitor that meets strict energy-efficiency guidelines and helps reduce your carbon footprint.


Type C Wireless Mouse
WIDE COMPATIBILITY - The Type C Wireless Mouse is specially designed for all devices with a Type-C port, perfectly works with Apple Macbook 12", Macbook Pro 2016 / 2017, Chromebook, cellphone, laptop or any other device with a Type-C connector.

EASY TO USE & CONVENIENT - PLUG & PLAY. The nano type-C receiver is in the battery compartment of the mouse. Take it out and plug it into the type-C port of the device separately. No additional drivers or software needed.

Quiet & SENSITIVE CLICKING -  Smooth frosted surface and quiet clicks can bring a better user experience and free your worry about bothering others and keep you stay focused while working.

ADJUSTABLE HIGH SENSITIVITY/SPEED - 5 DPI levels (800/1200/1600/2000/2400 DPI) allows you to change the cursor sensitivity easily and track more smoothly over a variety of surfaces. Contoured shape fits your hands perfectly, reducing hand fatigue .

SKIN-FRIENDLY - The naturally curved grip and shape of the mouse makes your hand feel comfortable even after long hours, whisper-quiet click makes you focus on what you are doing.
Microscope Slide Station

Quickly and easily convert your XY slide to a microscope slide station. All parts to do this are included with the METCALC-1.


6" X 12" Rotating Base Plate


The 6x12 rotatable base plate helps to quickly and accurately position any object under the scope. Often times you have an XY adjustment and find yourself moving the actual tool around to get that final position you need. The rotatable base helps to get you to your final measuring destination quickly and easily.


Vertical Adjustment
The vertical adjustment travel can be custom modified to handle tools four feet long.


Calibration Scale








Reviews